Empowering and Connecting DFW Muslim Entrepreneurs and Investors (limited seating; one on one mentoring available; no refunds on tickets)
About this Event
The 2020 Conference is an effort led by experienced entrepreneurs and accredited investors to support ideas and start ups in our community. If you are interested in starting a business or taking your existing business to the next level, this conference is for you.
* Organized by entrepreneurs for entrepreneurs, with the goal of mentoring and empowering Muslims to build great businesses
* Listen to accomplished entrepreneurs who have built and sold companies, raised capital, and developed strong teams as they share their best practices about business plans, pitching decks, and success stories
* Network with fellow entrepreneurs and investors across diverse verticals, including technology, retail, healthcare, real estate, restaurants, etc.
* If you are raising capital for your business, we will match you with investors for 1-on-1 sessions on a first come, first servce basis (limited spots available to conference registrants)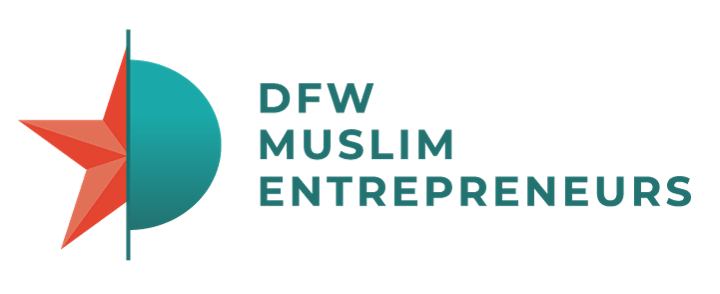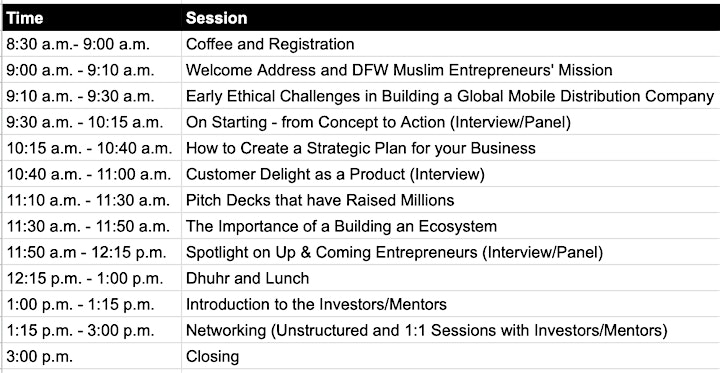 Speakers
Our speakers for the event are entrepreneurs who have successfully built companies from the ground up. The speakers include:
Tahir Hussain: Tahir is a seasoned entrepreneur, active angel investor, inventor and a technologist. As a founder and managing partner of Collide Village, a milestone-driven technology startup studio program, Tahir has created a deep passion to change the local technology startup landscape by investing and coaching entrepreneurs on how to build a successful, repeatable and scalable business model through data-driven entrepreneurial models. Tahir has launched numerous startups and currently serves on various boards including UT Dallas Entrepreneurship Council as well as UT Dallas Jonsson School Executive Council. He enjoys giving lectures and talks on entrepreneurship. He also holds 14 patents in wireless technologies, is a Cum Laude graduate of the University of Texas at Dallas where he earned a Bachelor's Degree in Electrical Engineering.
Ibrahim Abed: Ibrahim Abed has been a visionary in the Halal Food Industry for over a decade. He has combined expertise in manufacturing, sales, product development, supply chain and operations and now holds the title of Vice President at Crescent Foods. Ibrahim has been instrumental in leading the penetration of Crescent Foods into mainstream channels across the US. He was essential in the recent development and launch of Crescent Foods E-commerce platform, both online and fulfillment strategies. He is at the helm of expanding Crescent Foods into the retail and foodservice sectors while remaining committed to his core values and ethics. In addition, he is currently focusing on building a transparent regenerative supply chain using technology, state of the art production processes with a focus on integrity while holding the highest standards of Halal. Ibrahim's educational background includes Marketing and a concentration in Sales leadership, from DePaul University – Charles H. Kellstadt Graduate School of Business.
Mirza Baig: Mirza Baig has over 20+ years of overall experience, including 13+ years of Management and business development experience, refined in extremely demanding and high profile environments. He was a Branch Chief at The White House during President George W Bush's first term. He refined his strong global experience and a deep understanding of the international market place in technology, security and healthcare while working in AsiaPac for 5 years.. As a CEO of a healthcare startup, he successfully exited when it was acquired by Emcare, Inc. He currently leads the Enterprise Software Development Organization within Envision, enabling revenues of $10Bn+/yr. Mirza sits on the Board of several ITeS companies and is actively seeking strategic investors in the hospitality industry.
Junaid Din: Junaid is an entrepreneur, investor, community organizer and philanthropist based in the Dallas Fort Worth area. After spending the initial years of his career on Wall Street, Junaid moved to the entrepreneurial arena and is currently the founder and CEO of Skywire Communications, a global mobile-phone distributor. Junaid has also been an investor and advisor to multiple startups and aided in the development of corporate M&A strategies. Junaid was President of East Plano Islamic Center and served on the board of Maruf Dallas, a non-profit dedicated to providing assistance to local DFW refugees. Junaid currently serves as Yaqeen Institute's COO, where he oversees the daily operations of the organization, and is a member of its Board of Directors.
Yasmeen Tadia: Make Your Life Sweeter® founder Yasmeen Tadia has transformed standard- issue, carnival cotton candy and popcorn into gourmet indulgences with her signature line of sweets sensations, including Fluffpop® Gourmet Mini Cotton Candy, Fluffpop Mini Masons, Hotpoppin® Gourmet Popcorn, The Mini Mason, and her recently recent creations of launched Sugaire Organic Cotton Candy and ModChocolate. Yasmeen graduated from SMU Cox School of Business after which she spent 10 years in corporate America in a variety of management positions before inventing Fluffpop. The entrepreneurial vision behind the sweet Fluffpop miniature pouf was actually born out of Tadia's desire to provide a healthier candy alternative for her sugar-loving young son, Zain, which also instantly made this single-mom the CEO of fun for her son. Now, she and her team of resident "DJs" spin Fluffpop at countless events across the United States—from red-carpet celebrity soirees to sporting events, posh parties, casual shindigs and private celebrations. Tadia reached a milestone in 2014 when she attained the United States Patent for Mini Cotton Candy Pops (patent number: D712, 116 S). Popcorn also holds special significance for Tadia, as her love of the snack stems from her childhood in South Africa, where kernels were freshly popped and uniquely flavored for each customer. Wanting Zain to also experience a similarly creative and custom treat in the United States, she launched Hotpoppin, her innovative line of premium, handcrafted gourmet popcorn in 2014. Hotpoppin is popped in small batches and features sweet and savory flavors using only the highest quality of ingredients for a taste that's like no other. Vegan and gluten-free options are also available. Along with the chef-driven flavors, the Hotpoppin team specializes in innovative and trendsetting popcorn bars and custom presentations at events, traveling worldwide with their unique creations.
Urooj Waheed: Urooj is an anesthesiologist and senior partner of US Anesthesia Partners, one of the largest anesthesia groups in the nation. He graduated from University of Texas at Arlington prior to graduating from Kansas City University of Medicine and Bioscience for Medical School. He further went on to serve as a Lieutenant in the US Navy as a primary care physician during which time he also completed his MBA from University of Dallas. He then completed his residency in anesthesia at University Health Sciences San Antonio. Dr. Waheed has served on several medical leadership committees including Chairman of the Patient Quality Committee for all HCA facilities in North Texas, Chairing the Steering Committee for Methodist McKinney Hospital and Vice President and Chief Medical Officer at Baylor McKinney Hospital. He is currently the Medical Director and Cofounder of Stonebridge Surgery Center which three years ago sold 51% ownership to Texas Health Resource Presby for a 7.5x EBITDA. He has further founded and managed several wellness clinics, family practice clinics, medical labs and is a managing partner of 2 commercial property holding companies. However, his most rewarding endeavor has been to Cofound Zaina Foundation, a non for profit serving orphan girls, with his wife Sobia. He currently lives with his wife of 20 years and three beautiful children Hamza, Zaina and Maryum in North Dallas.
Rosie & Pete Keopaseut: Rosie and Pete started Noodle Wave in 2003, which was created as a result of Chef Rosie's passion for cooking. The combination of her cooking skills passed down from her grandmother and parents in the kitchen and Pete's operational expertise, they both run one of the most successful restaurant chains in DFW.
Ashraf Motiwala: Ashraf is a technology entrepreneur who has founded multiple consulting and software companies. He has experience building and raising capital for startups, as well as mentoring and advising entrepreneurs. He is currently Managing Partner of a cybersecurity consultancy and sold his last software startup to CA in 2014. He is on the Board of Directors for Yaqeen Institute and an investor/board member of other startups. Most recently, he founded Patronus, a non-profit dedicated to fighting online hate speech through the use of technology.